After reading the synopsis for this book I looked forward to reading it.  
Undone
takes place while the main character is going through her first year of law school, something I do not wish on anyone.  As a law school grad myself, I knew that I could relate to the character's academic struggles.  What's more is that the author went through the hell that is law school herself, so I knew that law school would be accurately (and painfully) depicted.
Embry Jacobs is starting her first year of law school at Whitman Law School.  After leaving her home state of New York to go to escape her abusive ex-boyfriend, she is back and ready to start a new chapter in her life with her best friend, Julie.  Turning over a new leaf, Embry swears off guys, sex, and drama and decides to devote all of her time and effort into studying. Her plans to be studious are disturbed by this blue-eyed Hallway Hottie.
After Embry quite literally runs into this mysterious hottie, she can't get his blue eyes and piercing gaze out of her head.  She hasn't seen him in any of her classes and begins to wonder who he is.  Finally, Embry gets a chance to talk to him and learns that he is an attorney working on a research project with a law professor.  His name is Luke Brody.  Embry isn't the only one smitten, Luke feels the same way and asks her out.
Luke is so sweet and thoughtful.  For their first date, he doesn't do the normal dinner routine.  No, he goes to her apartment and cooks her dinner so that she has time to study.  Seriously, in law school you barely have time to pee due to the hundreds of pages of required reading per night and case briefs.  So, this is an extremely good move.  Two million points for Luke.  After this first date, Embry knows that her "no guys and no sex" rule is going to be completely tossed aside for this wonderful man.
Their relationship is met with some...obstacles.  I won't reveal what they are so that you can find that out for yourself.  The ups and downs of their relationship was what kept me turning the pages, or rather tapping my kindle.  Both of them fight their feelings SO MUCH! It was emotional torture for me and for them!
"Why did you kiss me?"
He ripped off his mask and ran his hand through his hair. "I came here to get away from you. I had no idea you'd be here. I just wanted one night without having to think about you...about us. but then you walked in, and I couldn't stay away. I can never stay away."
See what I mean? Gah!!
Initially, when I started this book I had to put it aside for a bit, though I think it had more to do with my mood at the time. It's really hard for me to put a book down permanently, as my curiosity gets the best of me. Once I picked it back up, I did enjoy it.  Early on, I found myself getting frustrated with the pacing of Embry and Luke's relationship.  By the twenty percent mark, Embry begins to realize the she is falling for Luke.  At this point in the story, neither of them had much interaction apart from a few telephone calls and a couple of dates.  But there is a reason for the fast pace, these two go through so much in this novel!
This story follows the similar plotlines that I have seen in several books — abused girl leaves town, comes back, meets an attractive new guy, falls for him rather quickly, conflict, and then the book ends in a happily-ever-after or they break-up.  Once I got to certain point in this book, I knew which path this book was going to take.
What I liked about 
Undone
was this almost-tangible intensity between Embry and Luke.  I liked where this book took me emotionally.  Even though the pacing of their relationship was fast, they truly were in love with each other from first sight.  I just hoped for more character development prior to that time.  Despite my criticisms, I still want to read the 
Unbroken
, the second book in R.E. Hunter's Disclosure series set to release in August 2014.  I want to find out what is next for Embry and Luke, especially after the ending of this book.
3 stars
* I received a copy from the author in exchange for an honest review.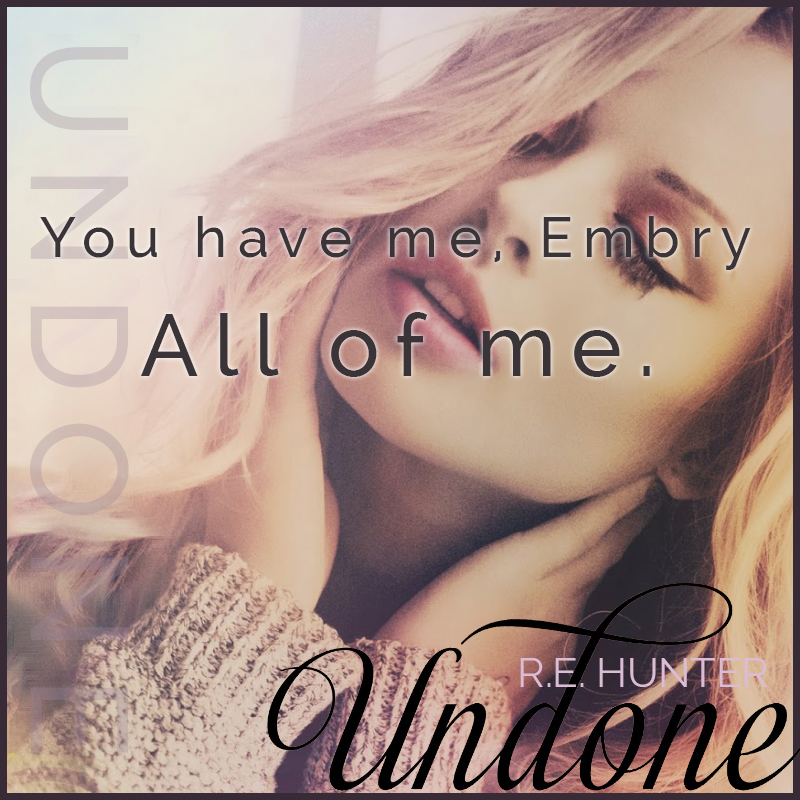 ____________________________________________
Find more of my reviews & other bookish things here:

✥ Read the Review on the Blog
✥ My blog Reading Books Like a Boss
✥ Like on Facebook
✥ Follow on Twitter
✥ Subscribe by Email