Karina Halle does not shy away from writing books that go against the grain. She writes unique, distinctive works that leave me and thousands of other readers coming back to her novels time and time again. Just for one day I'd like to live inside her brain just to see what kinds of creepy and exciting things are stored up there. I was intrigued to read this book for its historical tie-in to the famous
Donner party
story. In the mid-1800's, a group of pioneers got trapped in the harsh, snowy conditions of the Sierra Nevada Mountains. Out of pure desperation and starvation, they resort to eating those who had passed. Halle puts her own sexy and scary spin on the true tale, adding in zombies.
After her father mysteriously disappears and is presumed dead, Eve Smith and her mute mother move in with her uncle and his family on his farm. Born to a Native American father and a white mother, Eve isn't offered the same basic rights that white people get, like a chance to go to school or even respect. To earn her keep, she works alongside her best friend and fellow ranch hand, Avery, whom she secretly desires. Her comfortable and safe world is shattered when a search party wanders onto Uncle Pat's farm. Hungry and tired, this group of strangers are looking for a tracker by the name of Eve Smith. When Uncle Pat hears of the monetary reward, he orders Eve, Avery and god-fear Donna to join the search party on their venture into the harsh wintry condition. But what lurks in the cold, bleak forest is not what any of them expected.
" The air around us smelled like sorrow."
Eve isn't like other girls in her time, wearing dainty dressing, fainting, and sewing doilies. For living such a sheltered life, Eve was extremely brave and lionhearted. She was thrown into the fire, so to speak, when her uncle compelled her to be the "tracker" for these group of strange men. She was clearly apprehensive and fearful about going — for one because she lacked the expert tracking skills these men hired her for — but she didn't let that show on the outside. I found her to be a very resilient young woman. Perhaps her outward display of strength was a means to prove her worth to her uncle, win over Avery's affections, or just to see what's outside the confines of the farm. In any event, I can't say that I could show the same bravado in such circumstances.
Among the search party was Tim, an old man who seemed to be running the show. Out of the lot, he was the most talkative and was the nicest to Eve, Avery, and Donna. There is also Isaac, who's the nephew of the man the search party is looking for. Then there's Hank, whose shifty eyes and piercing stares gave me (and Eve) the creeps. We have Meeks, who was a jolly character along for the ride he was the pocketbook of the expedition. Lastly, we have Jake McGraw, former Texas Ranger and all-around cowboy badass.
Jake is one hundred percent 1851 American man. The guy is a jack of all trades and is clearly the one that holds the group together. He is the strong protector, hunter, and cook. His attitude towards Eve wasn't exactly friendly, which in all honesty I loved. His and Eve's conversations were full of passion and I don't mean passionate love. No, this was a meet hate.
"I think I've had just about enough of you," I told him as I started to leave. "Oh darlin'. You'll never get enough of me, I promise you that."
His clear prejudice towards Eve led him to call her "Pine Nut," which only fired Eve up more. Jake could easily be construed as a chauvinist pig based on some of his comments and behavior, but it's important to remember that his is a historical novel. What was acceptable, and even normal, back then isn't the status quo today. Throughout the novel, his opinions change.
There was something so wonderfully solid about the gesture, the feeling of him behind me, that it made me momentarily forget who this was. He may have just "saved" me but it was still Indian-hating Jake McGraw and we mixed about as well as oil and vinegar.
Eve and Jake learn to lean on each and trust each other while those around them are picked off one by one by the mysterious pale monsters. As the danger around them grew, so did faith in each other. While the time-span in this novel is long, their relationship did not feel like it there was instant attraction and instant love. Halle did a good job at building the underlying foundation of trust and friendship between them. Jake opens up to Eve and explains why he is the way he is.
I think I liked it. I liked this kind of fear. It was doing curious things to my insides, putting me through a beautiful sort of pain that was so very foreign to me. "Because," he went on with a gruff voice that warmed my stomach, "the longer you touch me, the more scared I get."
Jake's conversion of prejudice into affection was one of the things I liked most about
Donners of the Dead
. I really liked that this testosterone-driven, gruff, harsh, strong man had a soft and needy side.
"My innocence is gone. But whatever I do have left, I want you to have it."
Halle has ruined all bathrooms for me after reading her Experiment in Terror series. She has also ruined all outhouses for me. Not that I would ever use one, but still. She builds fear and suspense in
Donners
in a way only she can. Halle had me on the edge of my seat and looking over my shoulder. With Jake and Eve braving the elements and the mysterious human eaters coming out of nowhere, I had no idea how the duo was going to get out of the mountains alive and with all of their limbs intact.
I am a zombie book novice. Aside from reading
Warm Bodies,
I haven't read any zombie novels. In fact, the horror genre is quite foreign to me. Admittedly, zombie horror novels are not at the top of my to-read list, but maybe they should be because I really, really enjoyed
Donners of the Dead
. This standalone is a quick and thrilling read that is a great intro into zombie fiction for novices like me.
4 stars
* I received an advanced copy from the author in exchange for an honest review.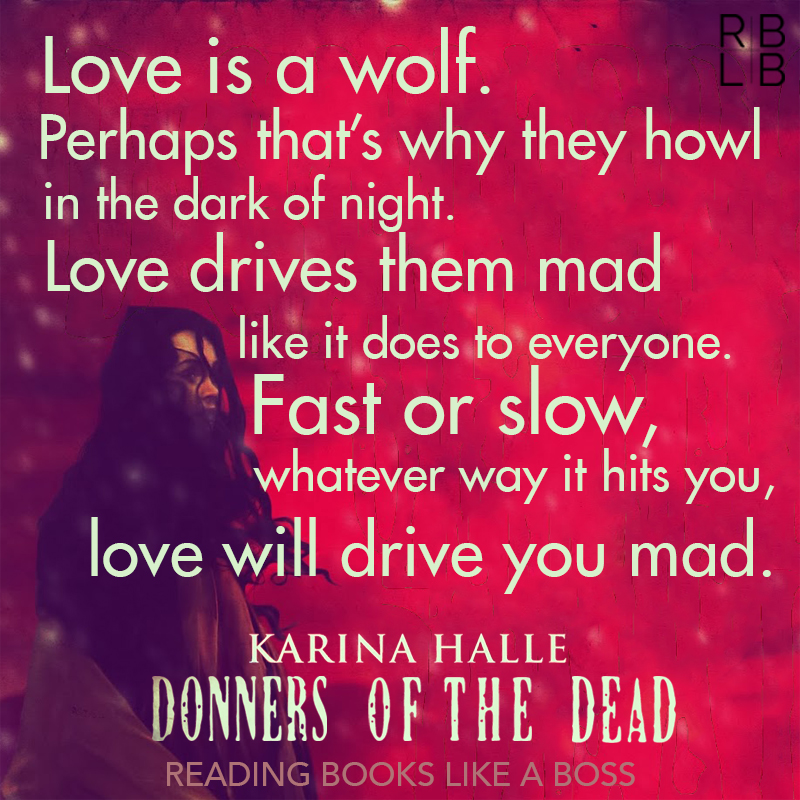 _________________________________________
Find more of my reviews and other bookish things here:✥ Read this review on my blog✥ My blog Reading Books Like a Boss ✥ Like on Facebook ✥ Follow on Twitter ✥ Subscribe by Email
Donners of the Dead is one of my
most anticipated books of 2014!!