Karina Halle is one of my favorite authors.  Her books and her writing are always stand out to me in the sea of books.  While her past books have been more horror romance and contemporary suspense, 
Love, In English 
is her first venture into the New Adult category.  And I hope it won't be her last.  Halle has created an enthralling, forbidden love story filled to the brim with emotion, heart, and longing.  Move this book up on your to-read lists.
Vera Miles gets the chance of a lifetime to teach English in the Spanish countryside.  Each day for a month, she would be the teacher to businessmen and businesswomen, helping them hone their conversational English.  The free room and board was the selling point. All of her expenses were paid for a month.  She wasn't expecting to fall in love with a married man, but that's what happen.
She meets Mateo Casalles on the bus to Acantilado, a picturesque village in Spain.  They bond over their mutual dislike of an American named Lauren who is a huge killjoy.  Even in their first meeting, it is filled with tension but it's not overly done.
He picked up his suitcase with ease. "I thought you were saying you were good, like a good girl."
An involuntary smile spread across my lips. "Oh, I am definitely not a good girl."
"I knew there was a reason I liked you." He wagged his finger at me, eyes glittering.
Mateo is a thirty-eight year old retired soccer player turned restaurateur.  His life has played out in the Spanish tabloids. He's married to a beautiful woman and has the perfect little girl, but he's not happy.  He feels trapped and suffocated.  When he meets Vera, his whole world shifts.  She opens up his eyes and he realizes that she is what he wants.   After their one-month affair in Spain, Vera goes home to Vancouver, heartbroken that she has to leave Mateo.  But they stay in contact with one another and their relationship only builds.
"I think I feel too much," I told him. I took in a deep breath, trying to concentrate on my breathing. What a fucking night.

"I'm glad you feel so much."

I laughed caustically. "I don't. My heart is a whore."
What I really liked about this story is how the romance creeps up on you. It's so a quiet and then the wave of emotion and love floods the page.  Many "New Adult" book have been rather disappointing to me as of late.  Some (not all) of the new adult books I've read lack the relationship building and character development that is vital for me to connect to the characters' relationship.  Karina Halle knows her characters. She takes the time to introduce them to you so that you can get to know them.  You learn about their flaws, their stories, and their desires.  This is what it takes for me as a reader to feel attached to the characters' emotions.  This is especially important in this story because the characters do something that is morally questionable.  They have an affair.
Overall, I really liked the story and some parts I even loved and have reread.  However, I felt like the magical and magnetic connection between Mateo and Vera fizzled out a bit in the third section of the book.  Vera is thrown into Mateo's world and Mateo doesn't act so kindly to her in the end, which gave me pause.  That was a little hard for me to stomach. Nonetheless, I loved the development of their relationship and where they ended up.
Many will not pick up this book simply because it has cheating in it, but I implore you to reconsider
.  This book is much more than an affair between a hot young thing and an older man looking for a quick roll in the hay.  It has emotion, heart, passion and love. Halle tells the story of an unhappily married man who discovers life and love in this young and vibrant woman.  Their love story is real, passionate and will make your heart race.
"Love is like a thief, it robs you of all thought and logic and all you have left is a heart that you can only pray is strong enough to survive the rest."
4 stars
*I received an advanced copy from the author in exchange for an honest review.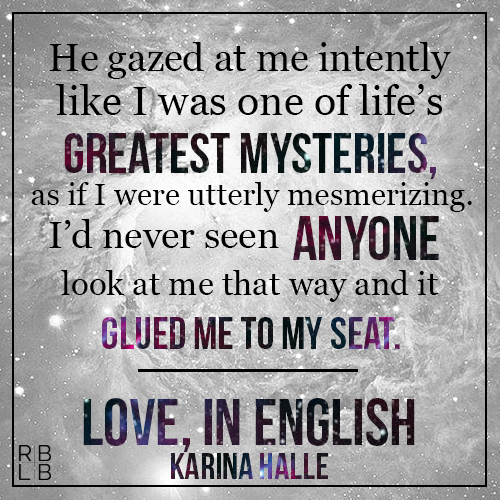 ____________________________________________
Find more of my reviews & other bookish things here:

✥ Read the Review on the Blog
✥ My blog Reading Books Like a Boss
✥ Like on Facebook
✥ Follow on Twitter
✥ Subscribe by Email