My friend, Nereyda from
Mostly YA Book Obsessed
, has been begging me to read more young adult books.  Looking back on my read list on Goodreads, I was appalled and disappointed to see that the last young adult book I read before reading
The Distance Between Us
was
Origin
by Jennifer L. Armentrout.  You guys, that was back in AUGUST.  I am so ashamed.  *hangs head in shame*  It is one of my reading goals in 2014 to read more YA books. I love coming of age stories. I love watching the way teenagers dance around love, fall into it unashamedly, and drown in their strong angsty emotions.
The Distance Between Us
reminded me why I need (yes, need) to read more young adult books in my life.  I have neglected this beloved genre.  Lately, I've been in a major book funk. This book was one of the books that have started to pull me out of the book abyss I've been in.  It was incredibly cute and fun.  It had its mix of light hearted moments, but there were also times where the characters dealt with some more heavy issues.
Caymen Meyers is a seventeen-year old girl working in her mother's doll shop.  Yes, you heard that right. She works in a doll shop.  I would be terrified on a daily basis that the dolls would revolt against me and attack me.  Caymen lives in a small resort town in California where most of the people are very wealthy.  It follows that most of her customers are wealthy as well.  Caymen and her mother are very anti-rich people.  After Caymen's father abandoned them, her mother paved her own way, opening up this store and ingrained in her daughter to never trust rich people. They are selfish and only care about themselves.  A bit small-minded don't you think?
Her whole life it's been easy to hold onto her prejudice and use it as a weapon warding off all the rich people.  But then Xander Spence walks in to pick up his grandma's special order doll and Caymen is immediately smitten.  Xander is able to keep up with Caymen's sharp wit and sarcastic remarks.  She likes him.  When she finds out that he is wealthy, she realizes that she can't like him, that she has to stay away from him.  Oh the TENSION!
"You two are the most in-love not-dating people I've met."
I adored Xander.  He shattered all of Caymen's preconceived notions about him.  Chipping away at seventeen years of prejudice is not an easy feat, but Xander did it by buying creepy dolls and iced coffee.
"Is that your subtle way of saying you missed me last week?" "I've missed my hot chocolate. I just think of you as the guy who brings it to me. Sometimes I forget your name and call you hot chocolate guy."
I really liked the build up of their relationship.  Xander obviously liked Caymen from the beginning, but Caymen was a stubborn little cookie and fought her feelings.  But when she gave in...holy crap!  Just wait for the kitchen scene, ladies.
The wealth poverty disparity was a bit overdone and overemphasized when it didn't needed to be.  The author made it clear from the very beginning that Caymen and Xander were from different sides of the tracks.  I didn't need their differences to be pointed out so often. I will definitely be reading more Kasie West. I can't wait to read Pivot Point and Split Second.
4 stars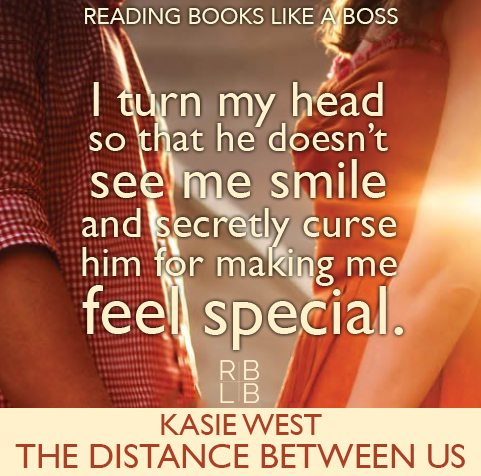 ____________________________________________
Find more of my reviews & other bookish things here:

✥ Read the Review on the Blog
✥ My blog Reading Books Like a Boss
✥ Like on Facebook
✥ Follow on Twitter
✥ Subscribe by Email